Hydrolyzed Hibiscus Esculentus Extract
Widely grown today throughout the southern regions of the United States as well as in many areas of the West Indies, the Hibiscus Esculentus is thought to have originated in what is now known as Ethiopia, parts of Eritrea, and the higher region of the Sudan. It is believed by many that this plant traveled east on its path around the world, ending up in India eventually sometime after the Christian era began.
Hibiscus Esculentus is an herbaceous plant that features heart-shaped leaves on an erect stem. Small spiny hairs on the stem can irritate human skin, so caution should be used during the harvesting of these plants. Given the proper environment (full sun, some rainfall, well-drained soil, no frost), it does grow quickly. It is also known by the names okra, okra plant, lady's finger, bombo, okura, gambo, ocra, and gumbo.
It is a member of the Mallow family, and it produces hibiscus-like flowers that are yellow in color and brilliant in appearance. The colorful blooms begin to turn into okra pods during the late summer months and into the early fall months. Typically this plant is grown annually. The Hibiscus Esculentus produces elongated green pods that are harvested while they are immature and tender. Since okra is mucilaginous, it is often cooked in stews and soups to thicken the broth or gravy. It is also served deep fried after being dipped in corn meal as a side dish, particularly in southern states of the USA.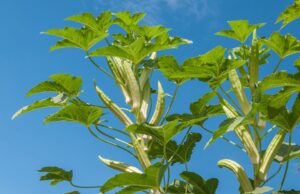 Okra offers high fiber content, aiding in the stabilization of blood sugar. Unfortunately, this vegetable is not popular, partly because of its difficult harvesting process. The pods must be harvested while they are no more than five days old and no less than two days old, otherwise, they become too tough to use. In fact, okra pods grow quite quickly and should be picked within a week of beginning to emerge from the flowers. Once home gardeners become familiar with this process, they can then appreciate the true value of okra. Calorie count is low for okra with a half cup containing a mere twenty-five calories. Okra contains vitamin B6 as well as folic acid, adding to its nutritious value.
Due to its mucilaginous nature, okra binds bile acid and the toxins carried by it as well as cholesterol. Hibiscus Esculentus has been used in medicinal applications due to its laxative qualities. Hibiscus Esculentus lubricates the large intestines, preventing constipation and easing evacuation of the bowels. However, it is also this mucilaginous nature that makes many Americans fail to appreciate this vegetable as an edible food choice. Okra is often dried for use at a later date, particularly in regions where its nutritional value is appreciated. Typically, this is done to provide a thickening agent for soups and stews used throughout the year.
Ripe seeds taken from okra can be ground and roasted for use as a coffee substitute. While the flavor is decidedly different, it is an option. Ripe seeds can also be used to produce edible oil, something that is commonly done in countries found in the East as well as in Mediterranean countries.
Hydrolyzed Hibiscus Esculentus Extract is found in a wide variety of cosmetics and skin care products, most noticeably, foundations, concealers, anti-aging products, and eye treatments. It is extracted using enzyme, acid, or some other method of hydrolysis. This extract is credited with the ability to deliver a cumulative effect that minimizes wrinkling, while also reducing the contraction of muscle cells.
The seeds of Hibiscus Esculentus contain proteins from which a complex of oligopeptides (patented as Myoxinol) is extracted. The proteins offer a composition that resembles that of milk proteins. Studies indicate that these botanically derived peptides do have the ability to minimize contractions of the muscles for as long as twenty-four hours. The proteins found in Hibiscus Esculentus are also credited with minimizing the appearance of wrinkles by firming and tensing the skin. These results occur after regular use of products containing the complex of oligopeptides. Furthermore, Myoxinol contains high levels of linoleic acid, oleic acid, amino acids, and polysaccharides, delivering potent antioxidant protection that helps to prevent biological aging (oxidative damage) that occurs due to the exposure of the sun's harsh UVA/UVB rays.